Save money on your next move, absolutely free!
Be like one of thousands of families we've helped save money on their move.
Learn More
Start Saving Money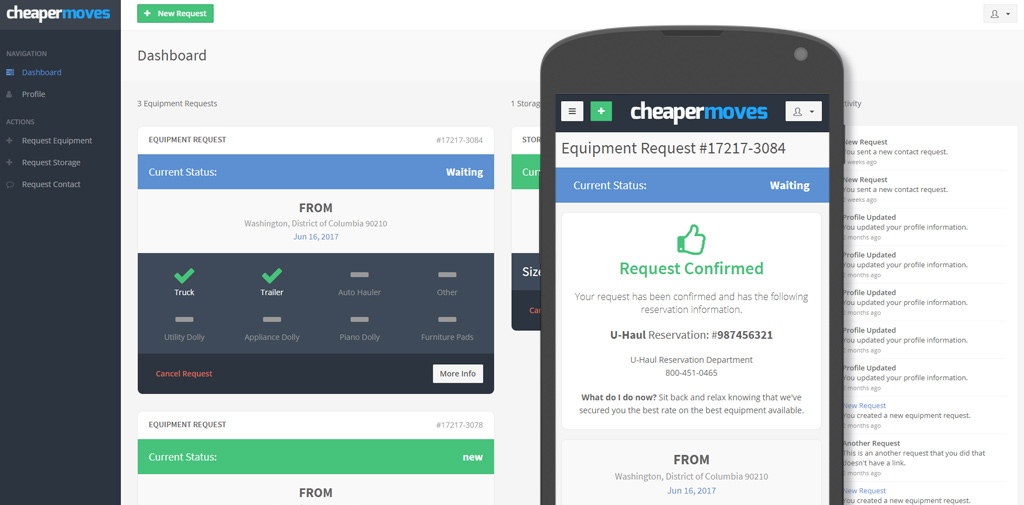 Enjoy the following benefits absolutely free!
Free Storage Units
We negotiate and reserve for you to get 30 days free storage at over 6000 locations across the nation.
Save time and money not stressing over the additional expense of storage.
Affordable Moving Truck or Trailer
We compare all the big brands and lock down the least expensive rate you will find on moving equipment.
We do the comparison leg work, commonly we save families 20-50% on costs.
Cash Back Rebates
Any completed rental we reserve for you gets you free cash back. Commonly 5-8% coming back directly to you.
This moving rebate is conveniently sent directly to your PayPal account.
See the Savings
When comparing rates we're able to find the best equipment for the best price. We save families on average over 25%.
This quote is an actual price comparison between a normal quote and a Cheaper Moves rate.
Example From Los Angeles, CA to Dallas, TX
28% savings, 50% more days, & $88 rebate.
Get Started Today
Absolutely free, no commitments.
Normal Move
6 Days
24' Truck
12.5' Truck Height
55 Gallon Tank
Can't Tow Trailer
24 Min Driver Age
$65 Per Additional Driver
$175 Month of Storage
$0 Rebate Available
Cheaper Moves
9 Days
26' Truck
11' Truck Height
57 Gallon Tank
Can Tow Trailer
18 Min Driver Age
FREE Additional Drivers
FREE Month of Storage
$88 Rebate Available
They went beyond my expectations. Found a trailer close to me when no one else could or did. Definitely a 5 star experience.
Willard O.
Wonderful staff. Extremely helpful and attentive. Will use services again for sure.
Maurice L.
I couldn't have asked for better service. Excellent experience.
Jason C.
Super easy to deal with. Always great!
John M.
Great service. Helpful staff!!
Seth H.
Great customer service. So helpful.
Lori W.
We were very pleased with the excellent service we received.
Bob H.
Very friendly professional courteous and I would recommend.
Steven H.
Awesome! Thank you so much for help and customer care!
Laurie F.
Create a free account and we'll go to work for you.
Get Started Today
Absolutely free, no commitments.